Lost Soul Ultra 100K 2019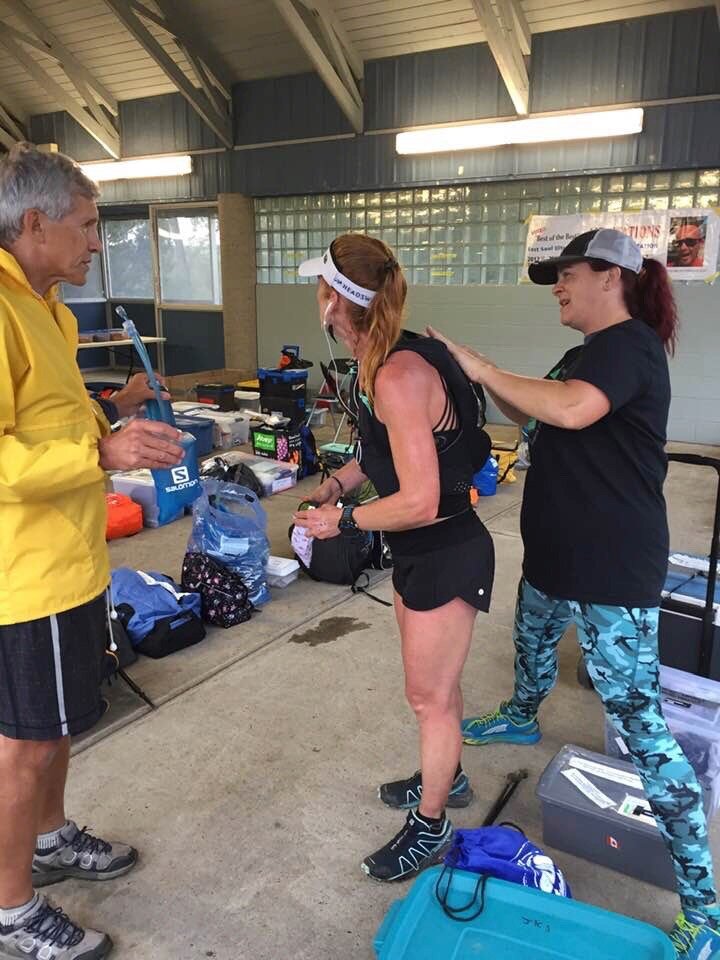 Lost Soul Ultra…back again;) It has been quite the journey, running in and out and up and over and over and over again…through those prairie coulees. 300kms and many journeys later, I figured this would be the end of my September ultra adventures in Lethbridge Alberta…
First things first, however…
LSU Team for welcoming me like family, Thank you. Matt Omera of Inner Strength Acupuncture, for helping to heal my body , Thank you. Nicole Anderson of Stillpoint, for helping me heal my heart and spirit, Thank you. Jeannie Spencer of Invision Your Life Hypnotherapy, for helping me find my way, Thank you. Hornby Organic Energy Bars, for fueling my legs, Thank you. My trail sisters, for sharing the trail and this epic journey of life with me, Thank you. It takes a village to raise an ultra runner:) And I am beyond grateful every single day for the family that helps me continue to learn and grow and play. Love to you!
This years race was a special one for me…I went back to Alberta to find that piece of my soul that I lost out there in the coulees my first time around…a brief her story…
Year 1 - 13:09, 1st female, 2nd human
I thought I was dying of heart burn (lol) and death marched my way through 25k, only to rally at the end and finish 2nd human and first gal overall… So I had to go back find that piece of my soul that got left behind on leg two in the coulees…
Year 2- 13:44, 2nd female, 7th human
I lost 12 weeks of training due to a calf tear in spring and squeezed my entire run training into one peak week of 200kms, 3 weeks before the race. (spoiler: not a good training strategy;) I got the HB but I managed to push through it and overcame my phobia of barfing at the same time with a good old puke on course… yet somehow I managed to get trapped in aerobic metabolism and unable to push my pace for half of the race…finishing slower in the end…
Year 3 - 13:00, 3rd female 8th human
My stars lined up, my issues were resolved with patience, experimentation, belief and mind games…but what really got me that PB was letting go of expectations, numbers and attachment to outcomes and a return to running for the pure love of it all.
The reason I am posting the times and places above is to show an example to my athletes, of why I encourage them to set 'process' goals along with, if not above, 'performance' goals. Places are not directly under our control, and quite often to be honest, neither are finish times. There are so many variables that can come into play during endurance events, and it can be absolutely crushing to get attached to performance outcomes. Of course, we train to perform! And we need to set performance goals to keep us on track with training, to help us push ourselves and to consider pacing for fuelling and timing etc, out on course. BUT, like anything in life, we must be careful to not get attached to these performance goals. And most definitely not attach our worth as an athlete, or human for that matter, to any number whatsoever. Keeping performance goals in perspective and putting our energy into 'process' goals- which are all of the things directly under our control, is a very empowering and effective tool for focusing our energies during races. Process goals include all of the thing things we have direct control over- our pacing, our fueling, our self care and most importantly, our mental state and self talk. Our mind games. The finish results above, show that although I had my fastest time this year, I had my lowest placing. THIS is why we cannot spend precious energy attaching to placings - we never know who is going to show up and we cannot control how others perform. All we have control over is the actions we take and the thoughts we think. THIS, in racing, in training, in health and in life, is where the true magic happens. And I encourage you to shift your energy there.
I have written the play by play about this course a couple of times already so I think I will share a quick summary of what I am most stoked on:)
I returned to running for the pure LOVE of the running itself during this ultra- yay!

I ran with my heart OPEN and a big old smile on my face the entire time. Heart open for myself, for the gifts of the beauty around me and for the chance to be there at all.

I ran with gratitude in every step.

I ran with a JOY BODY, just to be there!

I ran with a RELAX mantra, letting all tensions go, and sparing valuable energy for forward movement.

I ran at an 'easy' pace for the first 2/3rds, really enjoying myself and the journey, with no interest in times or numbers or placings.

My playlist ROCKED and I danced my way through about 70k of the race this year- rather than delaying my music gratification I just enjoyed it when I wanted to.

My cardio was through the roof after living at 1200m for the last few metres and doing mountain runs 2-4/week.

My pre-race heat training protocol helped me keep my HR a few beats per minute lower, once again this year.

I didn't have the period from hell (YAY) for the first time in 3 years. Ladies, 3 letters: IUD

I used poles for the second 50k and they were a HUGE benefit!

I used my powerful mind games to move past any and all mental obstacles - rejecting suggestions I didn't want and accepting those I did want over and over.

I looked at the beauty of the valley land with pure presence, taking in every scene as if it were my last chance…planning to say goodbye to Lethbridge…

I finally got my PB and found that piece of my soul…which was in my heart the entire time, after all.

I had FUNNNNNN!!!!

I am, of course, planning to go back again;) I so LOVE the people and the community of LSU and that pure magic in the prairie winds and light evening.

See you there?